In 2012 the band set out to plan its triennial tour of Oz and record another album. Tragically, on the 8
th
March Hector Cosmas passed away from a massive heart attack. We were all shocked and devastated. This was a tragic loss to his family and friends… and the band remained idle for the next six months or so, even contemplating to disband. It was at the insistence of friends and fans and even Hec's father, Constantis, that Apodimi continue to play. It went on as a foursome, with the Galiatsos brothers, Yiannis Niarhos and new member Chrysoula Kechagioglou on percussion and vocals.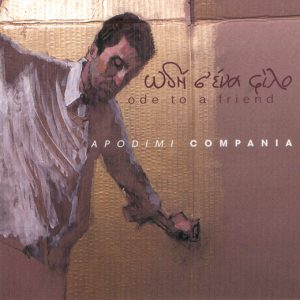 It was this line-up that recorded the band's seventh album in 2012-2013, aptly titled, "Ode to a Friend" and dedicated to Hec. It was released in February 2013 and comprised pre-war era Rebetika, Smyrneika and Folk songs. Although the band didn't want to include anyone playing fiddle on the recording, in the end it didn't feel it was doing justice to some songs, so it asked fiddler Sotiris Margonis to play on a few tunes. Guest vocalist Christos Biniaris sang a couple of songs and cymbalon player Klearhos Korkovelos and percussionist Nick Manikas played on a couple of tunes also. The art work was nicely done by artist Panayiotis Vasilatos.
Apodimi then toured Australia in April 2013 and was helped out by local musician Paddy Montgomery on Politiki lyra, saz and other string instruments. It was a successful tour but also a very emotional and cathartic one for the band. It felt strange to play and be in Melbourne without Hec. A memorial concert was held in Melbourne, organised by the band's good friends, Peter Leman, John McAuslan and Hec's family. On this tour the band also met up again with their dear friend Andy Irvine and played together on stage at the National Folk Festival in Canberra. For the next few years the band played sporadically. It stopped playing its regular Sunday gig at Sfirlas tavern as a consequence of the economic crisis. People were short of money, cutting back on expenses and being careful with how they spent their money. Naturally, cutting back on entertainment took priority and musicians and the whole music business suffered a great deal from thereon. Venues closed down, existing muso wages were reduced and many musicians were left without work.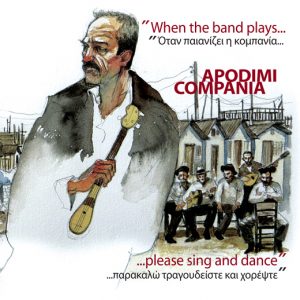 Strangely enough, it was another four and not three years that Apodimi organised another tour of Australia. As expected the band recorded another album, its eighth, in late 2016 and early 2017, titled "When the band plays… please sing and dance". By this time the band felt that it wasn't doing justice to the music without a fiddle and so the decision was made to invite the young fiddler Vangelis Votteas to join the band. So Apodimi was once again a five member band. This line up recorded a selection of mainly unknown Smyrneika, pre-war Rebetika and Folk songs. Christos Biniaris guested once more singing three songs and George Stoyiorgis on kanun and Avgerini Gatsi on ney played on a couple of tunes. Hara Tsalpara on accordeon and Sotiris Letsios on guitar also played on one song. Once again artist Panayiotis Vasilatos did a lovely job with the artwork and Apodimi's devout fan, Kostas Karamarkos, wrote the sleeve article.
Well, you guessed it…!!! Apodimi had a great tour of Australia in April 2017, playing at the National in Canberra, the Sydney and Adelaide Greek Festivals and the Spotted Mallard and Caravan Club in Melbourne… plus a dance and a few smaller gigs in Melbourne. All done with the invaluable help of the band's faithful friends and supporters, Peter Leman, John McAuslan, John Rerakis, Con Calamaras… and all its dedicated fans. It  was a most wonderful and enjoyable tour and could not have happened without the support of the band's friends and faithful supporters. A big, warm-hearted thank you to all of them…!!!
On its return to Greece, the band promoted its latest album and in the summer it played at the 2017 Paxos island Festival with friends Andy Irvine and Donal Lunny. It was a fantastic experience for the band, as always, to have the opportunith to play with these legends of Folk music. We promised to meet up again, possibly in 2019 to play with Andy and Donal's new band "Usher's Island". Let's cross our fingers…
So life goes on… with and without Hec… Apodimi has been around for about 34 years and still kicking… who knows what the future holds for the band? Hopefully, good health and more good music…
2017 – 2023
Well, as expected, Apodimi was planning a 2020 tour of Australia and a new Album when the COVID-19 pandemic broke out and put all plans on hold.
It wasn't until 2023 that another Album and Tour of Australia was set into motion. Despite the unexpected rise in expenses the band recorded a new Album titled " Joyful Sorrow " which was recorded in December 2022 – February, 2023, at Mythos Studios in Athens. The album includes a selection of Rebetika and Folk songs along with a new composition written by Yiannis Niarhos in the Smyrneic style and dedicated to long time member Hector Cosmas. Guests included  Christos Biniaris, Yiorgis Stoyiorgis, Costas Stavropoulos, Pandelis Angistriotis and Mihalis Orphanides, artwork by Panayiotis Vasilatos and  Kostas Karamarkos, wrote the sleeve article. The usual formula……when you are on a good thing why not stick to it ?
Apodimi Compania toured Australia and played at the 2023 National Folk Festival in Canberra, in Yattah, N.S.W., Melbourne, Sydney and Adelaide. After six long years it was wonderful to be back again, to play music not only to old friends and acquaintances but also to a younger generation of Greek- Australians and Australians. The band also had the opportunity to meet up again and play with multi- instrumentalist Paddy Montgomery and with the great Tony McManus at the National Festival. A wonderful experience.
Here's to Apodimi's next musical endeavours….!!!